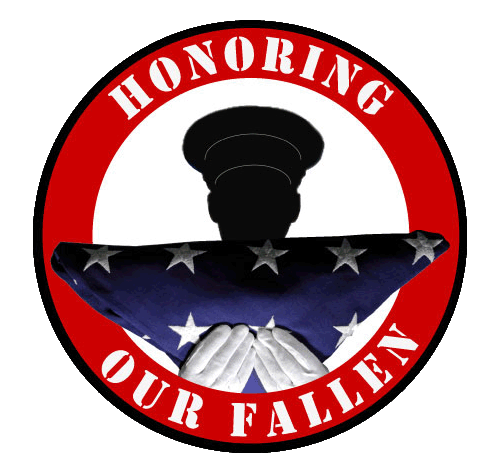 California veteran's remains return home after missing in action during Korean War
KABC News - February 27, 2013
​
LOS ANGELES INTERNATIONAL AIRPORT (KABC) -- It was an emotional and historic homecoming more than 60 years in the making. The remains of a U.S. soldier declared missing in action during the Korean War were returned home.
Honoring Our Fallen featured on "The Sound"
100.3 fm - November 10, 2013
​
Honoring Our Fallen is pleased to have share our radio interview with 100.3 fm The Sound you can listen anytime by visiting https://soundcloud.com/5900-wilshire.
HOF featured on ESPNLA
ESPN 710 am - December 29, 2013
LaFern Cusack speaks with Laura Herzog, CEO and Founder of Honoring Our Fallen which is dedicated to serving our nations fallen and the families these heroes have left behind by providing comprehensive support. Click here to listen to the Podcast.
Credit: Jessica Carreiro, Los Alamitos-Seal Beach Patch
Credit: Jessica Carreiro, Los Alamitos-Seal Beach Patch
Credit: Jessica Carreiro, Los Alamitos-Seal Beach Patch
Thousands Race on the Base at Los Alamitos
Los Alamitos - Seal Beach Patch - February 24, 2013
​
Thousands attended the 32nd Annual Southland Credit Union Race on the Base on Saturday.
​
Sponsored by the Los Alamitos Recreation and Community Services Department, Race on the Base offered an array of fun and challenging courses, including a 10K inline skate, 10K handcycle/wheelchair, 5K run, 10K run, 5K walk, junior triathlon, two junior reverse triathlons, 1K kids run, and two waves of adult reverse triathlons. ​
Race on the Base
ABC 7 News - February 23, 2013
ABC 7 evening news provided pre-race coverage of Honoring Our Fallen. HOF was an official charity for the 32nd Annual Southland Credit Union Los Alamitos Race On The Base. There were a total of 172 Honoring our Fallen team members and raised over $6,000 which will go toward programs and services for families of our nations' fallen.
Honoring a Fallen Hero
Nuts About Southwest - February 11, 2013

In November 2003, Master Sergeant Kelly Bolor was killed in Mosul, Iraq, a town that has witnessed much tragedy, when his UH-60 Blackhawk helicopter malfunctioned. A world away, his son Kyle was getting ready to celebrate his second birthday.
Fast forward to ten years, and I become part of the story with a call from Laura Herzog , founder of the organization Honoring Our Fallen. Laura called Customer Relations recently, and as a Customer Relations Representative, I was the lucky one to answer her phone call.

Hero Child's Dream Trip
ABC 7 News - January 26, 2013
​
ABC 7 news covered Honoring Our Fallen as we made a child's dream come true. Kyle and his mother were flown to Sacramento by Southwest Airlines and were guests of the Sacramento Kings for one of their home games. This trip was made possible through Honoring Our Fallen's The Hero Children's Bereavement Program​.